Last Sunday my wife decided it would be lovely for us to have a birding date as it was a beautiful Autumn day and we had not had much time during the week, so off we went west to Wianamatta Nature Reserve, a place we had not visited for many months. On arrival we had a cuppa and a bite as we sat in the shade and then proceeded to walk, hoping to find the many birds that left during the smoke of the fires early in the year, had returned, but it was very quiet with hardly a sound, until we heard this very high pitched chorus as 20 or more Double-barred Finches. These tiny birds moved in flock across our path and around us.
The strange cry you can hear with the high pitched call in the recording above, is that of the juveniles calling for food, which were sitting together in the shade, but well camouflaged.  It was lovely to see they were still here. Finches are the great survivors, as I explain in my new book release "Flight of a Fledgling".
Tiny as thy are, this fact along with their flock arrangement contribute to Finches being the best surviving bird in the desert regions of Australia. In fact the Zebra Finch, which I have featured in previous desert locations, is one of the most studied birds, and is bred for scientific study of bird behaviour, for their amazing abilities.
Walking further we saw the only flowering gum in the reserve being frequented by both the New Holland Honeyeater, hidden in the blossom (above) and the Yellow-faced Honeyeater (below) which are the most common Honeyeaters as we move into the Winter months.
Other than the usual call of the Australian Raven, which is found everywhere, the sound of the Yellow-faced Honeyeater and that of the Rufous Whistler were the only birds heard. There was no Red-capped Robin family, they had not returned after the smoke. The Yellow-faced Honeyeater calling…
The male Rufous Whistler was being elusive as was his female partner, as usual, but he stopped evading when he caught an insect. The Rufous and Olive Whistler prefer the dry open woodlands of the west whereas the Golden Prefers the moister rainforest of the coast, though both birds are found together in many areas.
His call is similar to the Golden Whistler and often faster with more staccato, with less variation.
Having exhausted our search we headed off to our favorite fishnchip shop in the historic town of Windsor, which boasts of having the oldest Pub in Australia, the Macquarie Arms Hotel, of which a distant convict ancestor was involved with establishing, having a street named after her behind the hotel. If you would like to read of the intriguing history of this Pub click here.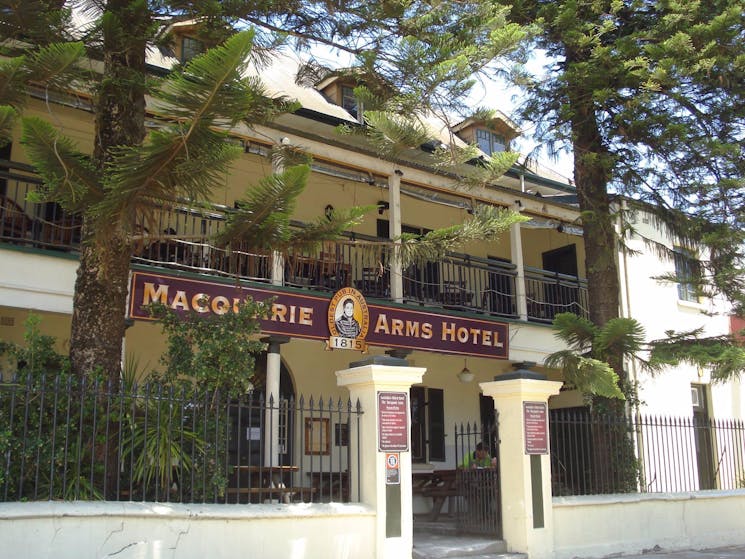 We sat having our lunching date in the park and watched the new bridge, which only a few weeks ago was under water as the Hawkesbury river was in one of its largest recorded floods. After an ice-cream and a look in at the markets, we decided to complete our birding date by driving to Bushell's Lagoon nearby, which we have blogged on many occasions, but not much during Covid. We also realised after all the rain that the waterbirds would be reduced, and they were. We were told by a local that the water level rose 15 feet above the central road access during the flood. These immature Australian Black Swans, joined by a family of Masked Lapwing,  were resting in the warm Autumn sun as their parents went out into the lake.
These Australasian Grebe were out for a day on the water. The bird on the left displays breeding plumage and the one on the right non-breeding (possibly an immature youngster). Both parents normally show breeding plumage and are capable of having up to three broods a year.
The bright green speculum of the Pacific Black Duck caught my eye as they preened together in a little family cluster. Many species of dabbling duck have an iridescent  speculum on their upper-wing primaries, which changes colour depending on the angle of sunlight from green to purple.
So did this Eastern Great Egret alone on the lake, when usually there are many.
We watched for some time as this tiny White-plumed Honeyeater plunged repeatedly into the water and flew back into the thick reeds. We thought it may have been getting water for its young.
Sitting in the reeds nearby this Australian Reed-warbler was keeping it's eye on us. It was in non breeding plumage.
This mother Grey Teal led here babies away when she saw us,
and this Willy Wagtail kept trying to get our attention as he did not want to miss being in Aussiebirder's blog post.
This little Brown Thornbill got my attention with his little chirp.
So another lovely birding date, despite low bird numbers, and just to top the post off I will include some photos of our famous Rainbow Lorikeets feeding on the seed pods of our native Casuarina Trees in our local Nature Reserve.
---
Have a wonderful week and remember birding is healthy for body, mind and spirit as I mention in my Benefits of Birding page.
For those who have not explored my books yet, why not, it could not only be the perfect gift for a Birthday or just a gift to a loved one, or even for yourself, for I can assure you that you will not be disappointed. This book is selling in amazing numbers at present throughout and outside our state, and I have had several booksellers including National Parks and other visitor centres tell me it is their best selling product. Overseas visitors and bloggers were some of my best buyers pre Covid. The two book Special is still available here.
---
While I was walking alone quietly this week in my local reserve enjoying a mindful meditative moment, I was given the schema for my next book Australian Bird Reflections, Daily Meditations for Living. I was brought to realise the importance of this work and the need for a very simple but thought provoking daily meditation, being made aware that our busy Western society has lost the value and art of meditative reflection, which is an important feature for daily: personal emotional restoration; listening to God and responding to his thoughts; reevaluating our lives, relationships and behaviour; and regrouping our thoughts to make changes in our behaviour for success, This is practiced in many of the world's cultures, and throughout the Bible. Again I would use the birds as a springboard. This work will have a practical spiritual approach, which will help to bring healing to various aspects to one's busy anxious life. A non spiritual aspect of reflective assessment is discussed in my new book as a healthy life skill to adopt.
"If only you would be altogether silent! For you, that would be wisdom." – Job 13:5 (NIV)
"Tremble and do not sin; when you are on your beds, search your hearts and be silent." – Psalm 4:4
"I will consider all your works and meditate on all your mighty deeds." – Psalm 77:12
Meditation can bring to fruition events of blessing to our lives as it did to Isaac when God brought his future bride to him:
"He went out to the field one evening to meditate,

 

and as he looked up, he saw camels approaching.

Rebekah also looked up and saw Isaac."  – Genesis 24:63,64
---
---
W. A. Hewson (Adv. Dip. Counselling & Family Therapy).
'To introduce people to our unique Australian birds,
So we can learn from them how to live a healthy and happy life.'
NOTE: All photos, videos and music used on this website are photographed, composed, performed  by the site owner and remains his copyrighted property, unless otherwise stated. The use of any material that is not original material of the site owner is duly acknowledged as such. © W. A. Hewson 2015, 2016, 2017, 2018, 2019, 2020, 2021.